Solid Dosage Forms-Hicand plus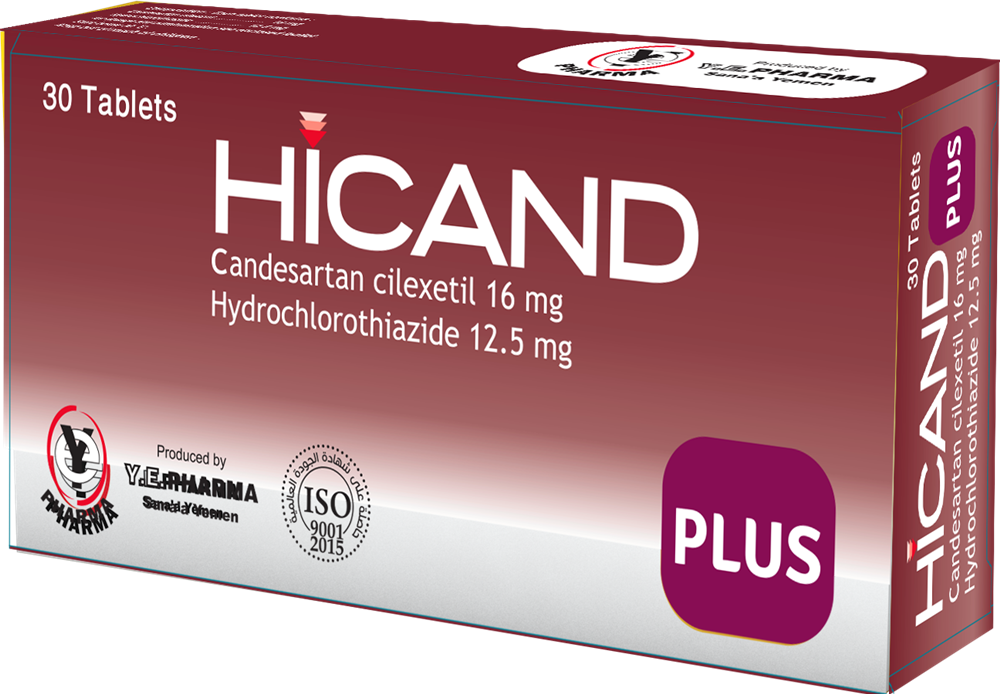 Composition
Each tablet of Hicand plus contains: - Candesartan cilexetil 16 mg - Hydrochlorothiazide 12.5 mg Properties: Hicand plus contains two medicines act as anti-hypertensive agents: - Candesartan cilexetil belongs to angiotensin II receptor antagonists, it makes the blood vessels relax and widen. - Hydrochlorothiazide is belongs to diuretics, it helps the body to get rid of water and salts in the urine. Indications: - Hypertension. - Congestive heart failure.
Dosage
- The usual recommended starting dose of candesartan cilexetil is 16 mg once daily. Hicand plus can be administered once or twice daily with total daily doses ranging from 8 mg to 32 mg. - Hydrochlorothiazide is effective in doses of 12.5 mg to 50 mg once daily.
Contraindications
- Hypersensitive to candesartan, hydrochlorothiazide or other sulfonamide-derived drugs. - Anurea. - Pregnancy or breast-feeding.
Side effects
These side effects rarely occur such as: - Upper respiratory tract infections. - Headache and dizziness. - Back pain. - Influenza-like symptoms.
Precautions
Tell your doctor in these cases: - Severe liver and kidney impairments. - Gout. - Hypercalcemia. - Taken potassium supplements. - Hypotension symptoms.
Drug interactions:
Tell your doctor if you take other medicines such as: - Non-Steroidal Anti-Inflammatory drugs. - Aliskiren in patients with diabetes. - Barbiturates (used to treat epilepsy) Package: Each box contains: 3 × 10 Tablets. Storage: Store at a temperature below 25 º C.