Solid Dosage Forms-Divance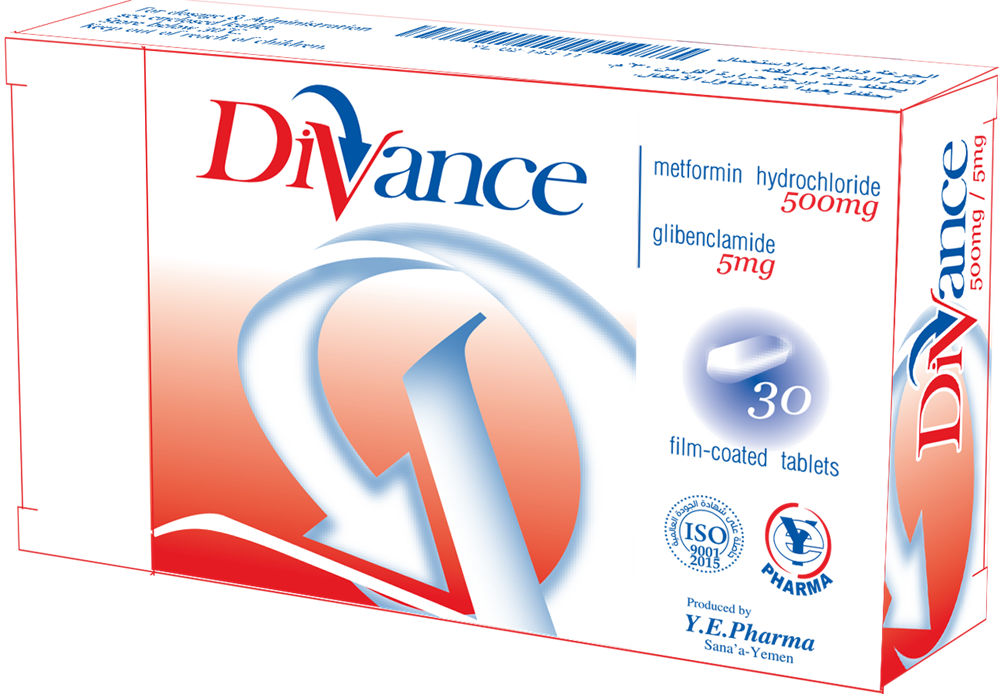 Composition
Divance 500/2.5: each tablet contains:
- Metformin hydrochloride 500 mg
- Glibenclamide 2.5 mg
Divance 500/5: each tablet contains:
- Metformin hydrochloride 500 mg
- Glibenclamide 5 mg
Properties
Divance contains two antidiabetic medicines:
- Metformin belongs to biguanide group which reduce hepatic glucose production , increases insulin sensitivity in muscles and delays intestinal glucose absorption.
- Glibenclamide belongs to sulphonylurea group which stimulates the release of insulin by the pancreas.
Indication
Treatment of type 2 diabetes in adults.
Dosage
- The maximum dose of metformin is 2000 mg per day.
- The maximum dose of glibenclamide is 20 mg per day.
Doctor will determine the dosage according to glycemia.
Contraindications
Do not take Divance in these cases:
- Hypersensitivity to metformin hydrochloride, glibenclamide or other sulphonylurea and sulphonamides.
- Type 1 diabetes mellitus.
- Severe kidney or liver impairments.
- Severe infection such as (bronchopulmonary infections and urinary tract infections)
- Dehydration (in case of diarrhea or vomiting)
- X-ray examination involving the injection of an iodinated contrast medicine.
- Cardiac failure, myocardial infarction and severe circulatory problems.
- Pregnancy and breast-feeding.
Side effects
These side effects rarely occur such as:
- Hypoglycemia.
- Gastrointestinal disorders such as nausea, vomiting, diarrhea, abdominal pain and loss of appetite.
- Skin rash.
Precautions
Tell your doctor in these cases:
- Experience symptoms such as vomiting, abdominal pain with muscle cramps, fatigue and difficulty in breathing.
- Symptoms of hypoglycemia such as (cold sweat, dizziness, headache, rapid heartbeat, feeling very hungry, temporary changes in vision and drowsiness)
- Before major surgery , Divance must be discontinued 48 hours before elective major surgery.
Drug interactions:
Tell your doctor if you take other medicines such as:
- Miconazole even for local use and fluconazole.
- Diuretics.
- Beta-blockers such as clonidine.
- Corticosteroids.
Package:
Each box contains: 2 × 15 Tablets.
Storage:
Store at a temperature below 30 º C.